Traveling time: July 11th, 2020 (Sat.), 15:00-16:00 (Japanese standard time)
Meeting point: Online (It will be livestreamed in our Youtube channel and Yoshimi's Facebook page)
Things you need to bring: Yourself, ready to sit back, relax, and enjoy!
Ticket fee: free (donation with PayPal and through bank accounts will be highly appreciated)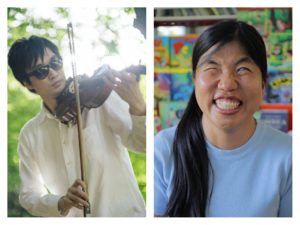 Hello, it's Yoshimi here.
As many of you know, I am sort of stuck in Japan since the end of March.
About a month ago, as I was playing around in the world of social media, I ran into livestreaming of my high school classmate, who now is a professional violinist.
And…
here we are!
We decided to put together a mini concert.
He will play violin,
and I will read short stories and folk tales from Braille books.
We will take you around the world with music and stories.
This time, the session will be in japanese language, but hope you can enjoy the violin and the whole atmosphere.
Takaaki will be in his home studio in Tokyo,
and I will be reading from my bedroom in Kochi.
Sometime during the event, we will also call in our colleagues in Rang Mai Library in Phrao, Chiang Mai.
Places that we plan to visit
Japan
China
The UK
And a few other countries
Here, you can listen to "A whole New World," covered by Takaaki.
About Bookworm Foundation
I set up Bookworm Foundation (formerly known as Always Reading Caravan) back in 2010.
We have three main projects:
1. Library with mobile library activities located in Phrao, Chiang Mai in northern Thailand.
2. Early childhood literacy centres for hill tribe children near Phrao.
3. Noon Noon Books (production of universal design picture books for children with and without disabilities)
Please feel free to visit our website here.
Call for Support
Thanks to the strong team in Phrao, Bookworm has been able to continue working throughout lockdown period in Thailand.
But most work related to fundraising had to be stopped because we have been heavily depending on personal fundraising where I would go and meet potential donors in person.
To keep Bookworm up and running, we really need your support now.
Every Yen, Euros, and dollars count.
During the event, you will be able to chip in using "busking" function.
But if you rather want to concentrate on the virtual world travel, you can always donate through PayPal before and after the event.
Or, you could also transfer your donation to our bank accounts in Thailand and Japan.
PayPal
アークどこでも本読み隊
(This is name of our organisation in japanese)
E-mail: yoshimi.in.kochi@gmail.com
Bank account in Thailand
Bank name: Kasikorn Bank
Branch: Central Festival
Account No: Savings Account 043-8-15111-7
Account Holder: Bookworm Foundation
SWIFT CODE: KASITHBK
Address: 99,99/1-2 Central Floor 3, Road Superhighway Chiangmai-Lumpang, T. Faham, Muang, Chiangmai 50000 Thailand
Tel: +66 53-807-605
Bank account in Japan
Bank name: Mizuho Bank
Branch: Takadanobaba
Account No: Savings Account 1954538
Account Holder: あーくどこでも本読み隊
Contact us!
Please feel free to get in touch with me!
E-mail: yoshimi.horiuchi@gmail.com
WhatsApp / Facetime: +66 83 542 7283
Twitter: YoshimiARC
Line ID: YoshimiARC
Please come and give us moral support!