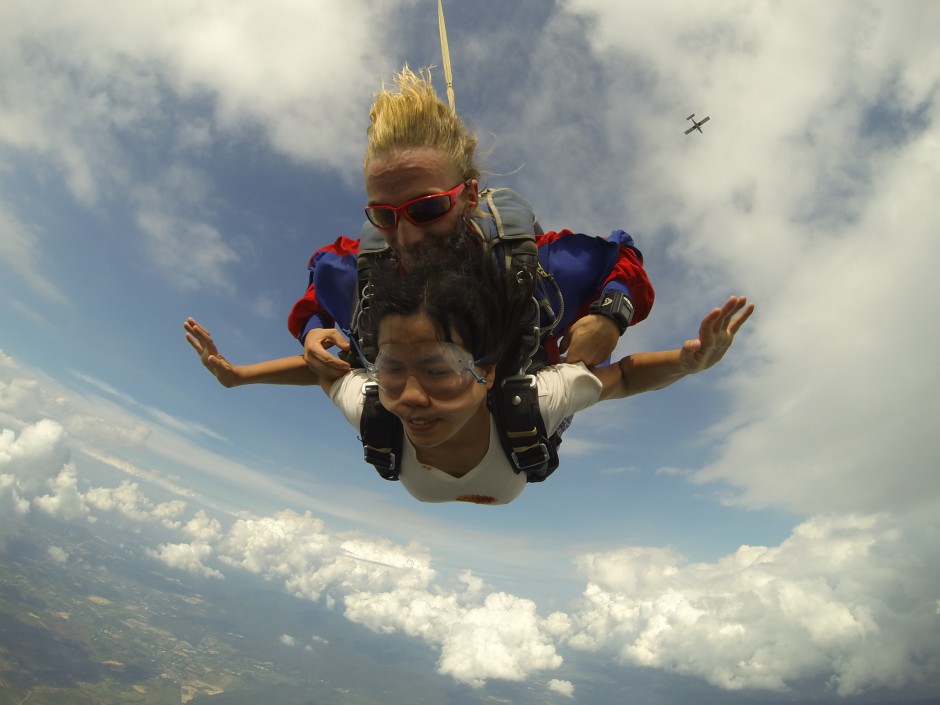 This is not a metaphor. I really flew, though it was just for 5 minutes. Let me tell you my seemingly once-in-a-lifetime experience of sky diving! I want to share how you feel when you jump from 3000 meters above without sight.
When I told my friends that I was doing sky diving for fund raising for my friend organization CYDA, supporting teenagers from hill tribe communities in Chiang Mai, most of them were horrified. But no worries, I didn't jump alone. I did tandem, which means that I was strapped to an experienced professional sky diver throughout. We were group of four, and all of us except for Alex, a volunteer from London, had never done it before.
So last Saturday, after four hours of waiting at Thai Sky Adventures in Pattaya, we were assigned a partner each. My partner was Johan, a friendly guy probably from northern Europe. He was so great–explaining me every step and even letting me practice postures during the dive while we were still on the ground.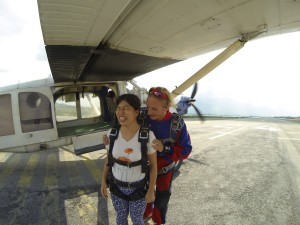 But this did not prevent me from getting scared to death as we climbed onto the small airplane. It was running at 80 km per hour only, but I felt as if I was in a unstoppable jet.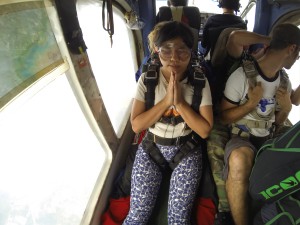 I was asking my late grandpa and dad to protect me from wherever they are.
As we reached the height of 3000 meters (9000 feet), things happened quite quickly. First, another fund raising challenger Alex jumped out with his partner. My stomach felt strange when I felt the rush of air from the exit as they jumped.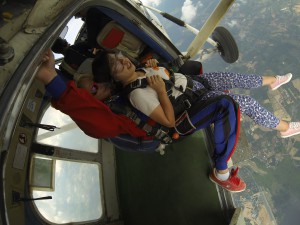 Finally, it was my turn. First I was almost sitting on the lap of Johan with my legs outstretched as if I were a child going on a slider with the parent. Then Johan moved in the same posture to the exit. For a few seconds, my feet was dangling from the exit, like I was sitting on a comfy bench. Then as I was leaning against his chest, Johan gave me the count of three, rocking his body slightly to give me the rhythm. Then, we were out!!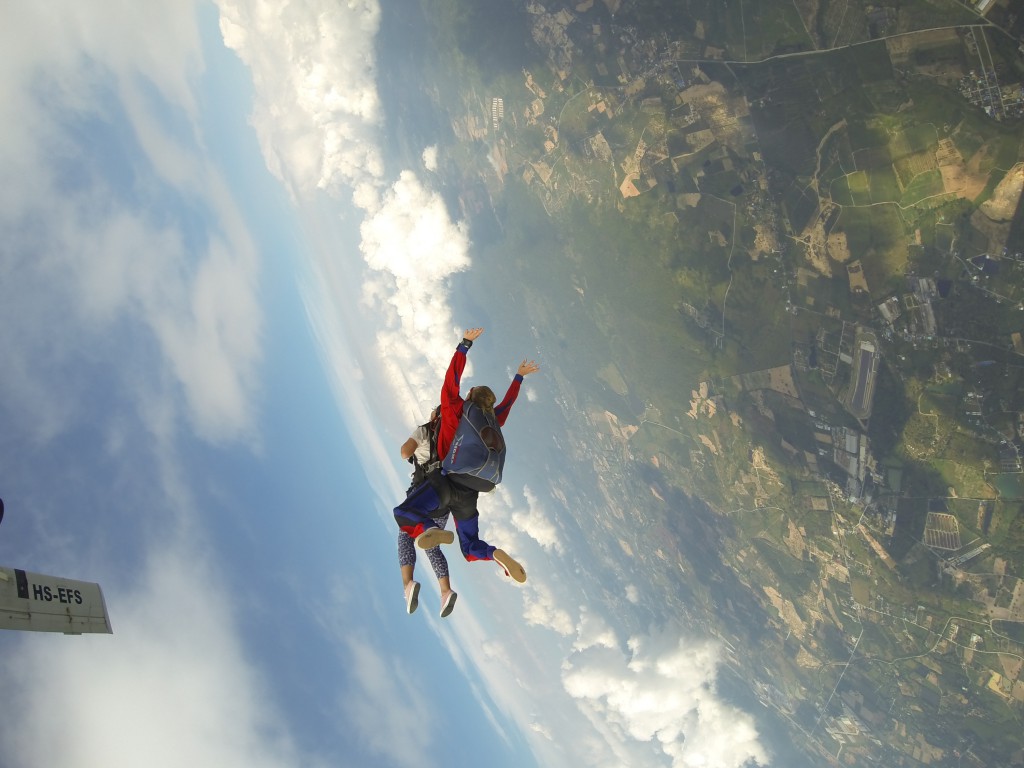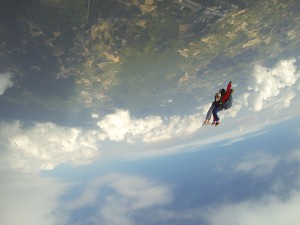 We fell and fell and fell. No chance to scream. The free fall lasted 30 seconds, which felt so so long! We were on our stomach, and I was told to hold onto the harness on my chest, and my feet tacked behind me. Johan told me to imagine as if I become a big banana, but the air pressure was so much that I didn't know banana or mango. It was like fighting against a enormous wall of wind.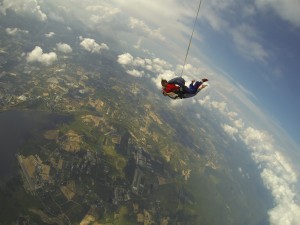 Then he gave me taps on the shoulder, then I had to push my elbows out and palms down, as if I were a frog. This is to keep balance, I guess. It was not easy, but somehow I managed.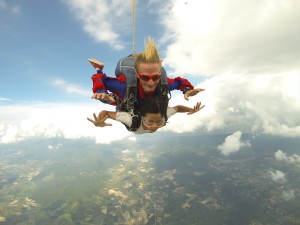 Suddenly I felt a big tag upwards as Johan pulled our parachute open. I cannot even remember if I felt going up or down, but it was so dramatic that I had to scream. Then suddenly, everything became quiet, as we slowed down significantly.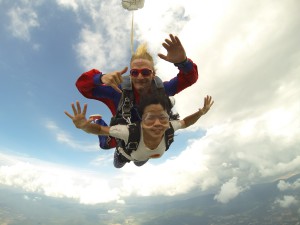 My friends told me that at that point, we were still on our stomach, but I felt as if I were standing. I didn't even feel that we were going down, so I had to ask Johan.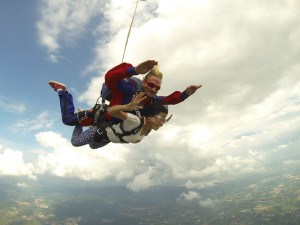 Then he showed me how to make a turn by pulling the string of the parachute, and this was so cool! As I pulled the left string, I would feel the left turn, and suddenly a strong sensation as if I was flying upwards towards the right. Later he told me that this is due to the gravity. I really felt like we were flying even though I felt a bit dizzy afterwards. As we were descending slowly, Johan told me that we were flying through the clouds, and that he could see the reservoir and trees below.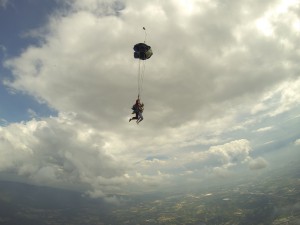 The touch down was very soft. I just had to pull my legs up for 10 seconds or so, and Johan let us land from our butt. There was no pain, shock, nothing.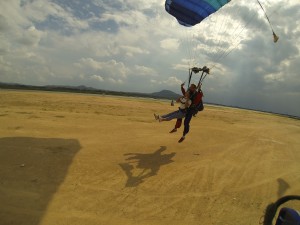 After all, the scariest part was the plane rising up to the jumping point. I'm proud of my team–Alex the volunteer, Frank and Pet (high school boys from hill tribe at CYDA), and myself–for not chickening out. I am very thankful to all of you who made contributions for our challenge 🙂 If you'd like, the fund raising website is still open and we would appreciate any contribution for CYDA.
Would I do this again? Yeah, maybe, a bit later. But I must say that at the moment, I am ever so grateful for my solid ground.